In response to a comment left on my last post, I was exploring The Joyful Quilter's blog, where I found a link to a blog called Confessions of a Fabric Addict. Sarah, the owner of the blog, has started a new linky party, encouraging us all to deal with our scraps: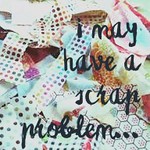 Now, my scrap problem is not quite the same as most other quilters: my problem is that the quilters I know keep giving me their scraps because they don't want to use them nor do they want to throw them away. Here in Australia, quilting fabric starts at $24 a metre at my LQS (yes, you read that right; although it is between $12 and $20 a metre at the Big Box Store), so I can't understand why anyone would want to throw away any potentially-useful fabric! I can't predict when scraps will come my way, so just when I think I have the scraps under control, along comes another bag or two and there's more pressing, cutting, sorting and storing to do. This organising of scraps can eat into my sewing time in a big way so I'm happy to join in this scrap-along which basically involves setting a monthly challenge for the scraps (posted first Wednesday of the month) and sharing my success (or otherwise) on the last Wednesday of the month).
Surprisingly, given that the first Wednesday of March was a week ago, the link up for this scrap-along is still open: so that got me thinking about my scrap goals for what's left of March, given that I won't be here most of the last two weeks.
My scrap storage is organised; if you're looking for how I do it, please refer to the scrap storage system tab at the top of my home page.  Organisation is not the problem, getting the scraps into storage can be! They tend to accumulate along the edge of my cutting table as I cut both the scraps that are given to me and the pieces I need for particular projects. I just don't stop long enough to put it all away! So my first goal is to cut what is necessary then store all these scraps.
Most scraps were sorted by size and shape but a couple of strong gusts of wind when I wasn't home put paid to that: my friend, who was keeping mum company, picked them up off the floor and put them randomly on the table.  My fault for not putting scraps away as I go!
While tidying my sewing area (there comes a time when I just can't stand the clutter any longer), I lifted a basket containing elements for two current works in progress, and found this:
These scraps were ironed and placed in this basket so long ago that I can't remember when! So my second goal is to get all these scraps cut and stored.
I think, however, my greatest problem, is using the scraps. February was the month of brown over at the Rainbow Scrap Challenge. I started twelve "Shoo Fly" blocks but never finished any of them. I have the centres and the corners but still need all the 'middles'! Goal #3 is to finish all 12 blocks.
So, that's it for me for March:
Goal #1 cut and store all the scraps lying on the edge of my cutting table
Goal #2 cut and store all the green fabrics in the basket
Goal #3 finish the Shoo Fly blocks
What about you?
Do you have a scrap problem?
Do you want to join in the fun and whittle down your pile of scraps?
May your stitches (and scraps) bring you much joy
Lynne