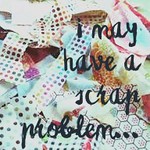 I'm linking this post with the end of month 'reality check' post over at Confessions of a Fabric Addict as I revisit my June goals.
In my post at the beginning of the month I listed my three goals as follows:
to press, cut and store the mound of scraps currently on the spare ironing board
to deal with the box of long strips — find a new home for them, press them, roll or fold them and store them
to press and cut (if necessary) then store the scraps given to me yesterday
Let's take a look at my progress:
the scraps on the spare ironing board (goal #1) and the scraps given to me the previous day (goal #3)
Most of the scraps from the ironing board and some of the donated scraps have been cut into the sizes used in my scrap storage system.
Here's a photo of my cutting table after the job was done and before I put them all away.
First, the scraps that got cut into squares: 4.5", 4", 3.5" 2.5" and 2". the scraps that were cut into 3" squares were added to the container that holds my leader/ender project-in-progress (not seen here).
Scraps that were strips sorted into two piles: those under 6", those between 6" and 12"; plus some scraps that are small triangles (less that 3.5").
Finally the crumbs sorted by colour: these are less than 2" in one or both directions.
the box of long strips (goal #2)
This was the first pile I tackled so it seems a long time since I dealt with all these. They are now stored in a drawer in four piles: cool colours, warm colours, light neutrals, and blacks. a few more have been added since that photo was taken on 8 June.
In the same drawer are the 'brown' strips I made in February for the Rainbow Scrap Challenge then abandoned my original idea. I am still trying to decide how to use these strips but they are now easy to find and not being constantly moved from one point of my sewing room to another.
So, not all goals have been achieved but it's not too bad an effort considering that WM has been home on annual leave since 17 June and we've spent a lot of time together, mostly working in the garden (despite the cold winter weather).
Now I need to look around my sewing room and see what goals I want to set for July – it's time to turn the 'scrap storage system' into a system for using (not storing) scraps! DD and the grandsons arrive next Wednesday (8 July) so we'll be using strips to make spider-webs, that's a good start…
How about you? Are you finding ways to store and use your scraps?
Until next time, may your stitches bring you much joy.
Lynne